Where do I pay?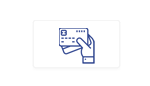 Once you confirm a reservation with AMOMA.com the total amount of the booking will be charged upon confirmation.
The hotel should not charge a second payment under any circumstances!
If at the hotel reception you are requested to pay for your booking again, please contact us immediately either by phone at + 41 225 182 013 or by chat so that we can assist you. To open chat click here.
In the unlikely case of a second charge made by the hotel directly for your stay (except extras) send us a copy of the invoice from the hotel at qualityservice@amom.com.
Our team will review the case and get back to you with a final resolution within 20 working days.
---
---